Aynabaji Original Series
Advertising Agency/Organization: Melonades
Brand Name: Aynabaji
Type of Product or Service: Entertainment – Drama
Background
"Aynabaji Original Series," a seven-part drama series, was brilliantly conceptualized based on the core message of the original film – duality of human lives/characters. In an unprecedented move in the history of Bangladeshi cinematography history, seven individual stories exploring on the concept of two different characters having similar faces was promoted. The challenge for the agency was to recreate the massive hype of the original film and to generate nationwide interest in the drama series over television and digital platforms.
Objectives
The objective was to recreate an integrated campaign over online and offline channels to generate similar engagement results and hype-building prowess of Aynabaji for the drama series to attract the viewers.
Idea
The idea was to rekindle the hype for Aynabaji and bring it to the Original Series. Audience engagement with interactive contests and featured activities by several prominent celebrities and social media influencers. was the priority. Using both digital and television platform the range of the target audience range was maximized and consumer interest was increased thoroughly. Print, digital and TV media was simultaneously used for maximum efficacy and bringing the Aynabaji fever back nationwide.

Execution
For the first time ever in Bangladesh TV history, "Aynabaji Original Series" telecast simultaneously over three different channels. It was the first time a movie was adapted into a drama series in the country. Digital countdown banners were installed in the websites of the print publications partners to drive up anticipation for each individual drama.
Melonades served unique punch lines and still images of characters taken from the drama which was unlike anything the audience was used to. Promo content featuring Behind-the-scenes footage, Director and Actor interviews were highly boosted for maximum reach. Soundtrack from the dramas were released before the drama by digital media partner E-Tunes Entertainment to leave the audience clamoring for more.
"Guess Koro, Bhelki Lagao" disguise challenge was launched to maximize the potential of the series. Photos of different celebrities and social media influencers posing with Aynabaji Bhelki Box in disguise was posted online for the audience to guess their identities for lucrative rewards.
Thus, the agency maximized the dramatic effect for the first ever movie adaptation drama series in the country.
Result/Impact
The campaign had total reach of 1.79 Million on Youtube, and 11.7 Million impressions on Prothom Alo. Total engagement of 200K, total video view of 2 Million on Facebook were achieved. The engagement contest drew 2.5K engagement and 22 submissions. The Wizard campaign resulted in 3.6 Million impression. The immense popularity of the dramas also helped Aynabaji Original Series be selected as one of the top 20 Eid dramas. The campaign also contributed to the series winning awards in various categories at the prestigious Meril Prothom Alo Awards 2018.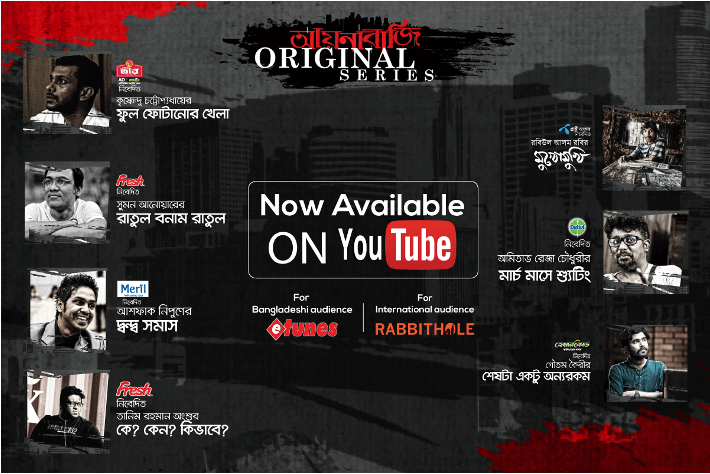 Are you awesome?
Then be ready to join the team. Drop your CV to make Melonades your home by turning the Melo people into your fellow people. We're growing, so come on board!